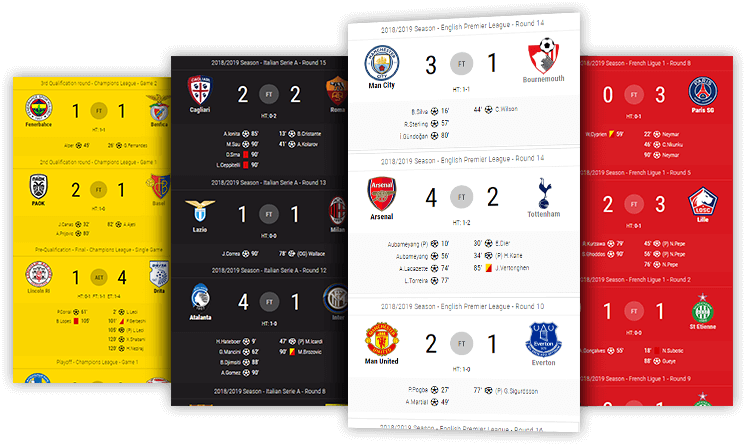 DISCOVER THE SOCCER SCOREBOARD WIDGETS
Soccer Scoreboard is a widget and shows livescore of the match instantly and presents also live goals and red card events of the match below the teams. Moreover, Soccer Scoreboard Widgets gives the information about the playing season, competition name and round.
LIVE EVENT SUMMARY

DETAILED SCORES

MATCH INFORMATION

SHOW WINNING

CUSTOM MATCH DATE FORMAT

SCORE ANIMATIONS

STICKY MODE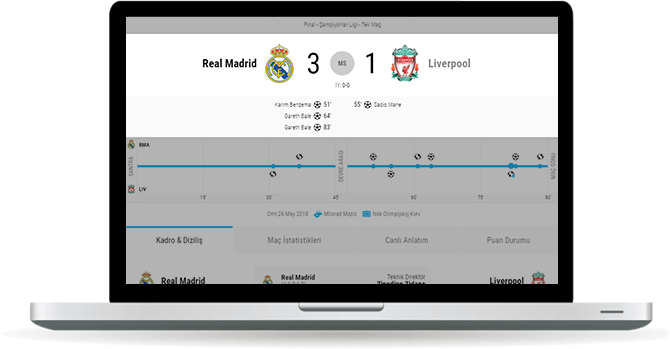 EXTENDED FEATURES
All our widgets are coming with more than 10 unique features each, fully configurable. It's up to you to turn it on and off as you wish.
LIVE EVENT SUMMARY
The scoreboard widget offers the live score feed of the match with the event details including goals and red cards.
All the events are presented with icons based on types such as own goals, penalty goals or second yellow cards. Minute and player info for each event gives you the highlight of what has happened throughout the match.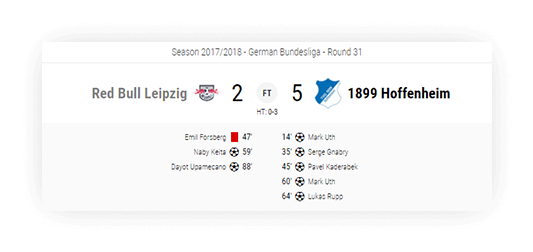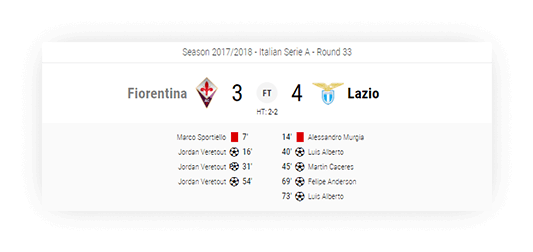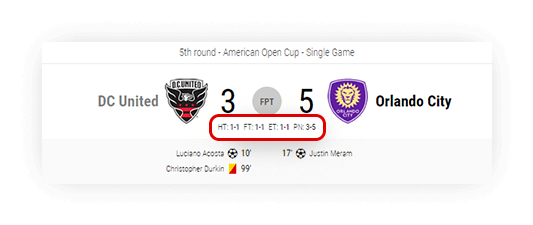 DETAILED SCORES
Most significant information about a match is the current score, but it means more when you see the evolution of the score.
Half scores are represented in the score detail below the scoreboard, giving you the clear picture when there is a comeback or an end to end dominance throughout the match.
ABOUT MATCH
Aside from match status, scores and match details, the introductory information about the match is presented in the scoreboard widget too.
The season, tournament , stage and round info of the match appear above the scores and complete the list of everything you need in a scoreboard widget.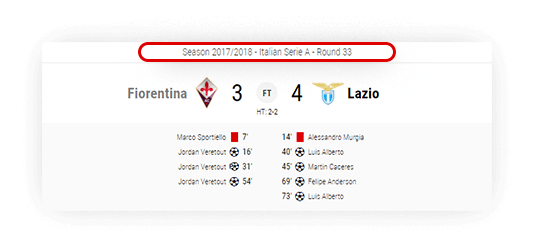 GOAL ANIMATION AND HIGHLIGHTING TEAM
Choose from a broad range of visualization options and configure them as you will.
One of these options are highlighting the winning team, enabling the user to see the winner for both the match and each period clearly even with a glance. You can also set the duration of timeout for each score update animations such as goals or points.
EXPLORE OUR PLANS
Get the sports data solution you need with our widgets just by selecting your data plan. No extra fees for additional sports or widgets, all included.
SEE PRICING