DISCOVER THE BASKETBALL LEAD TRACKER WIDGETS
Lead is defined as the difference between scores of teams. Basketball Lead Tracker widgets helps to visualize traffic of match and shows leads minute by minute. Lead Tracker also adapts 10 or 12 minutes of periods automatically and initialize itself according to match periods.
MINUTE BY MINUTE LEADING

SCORE IN TOOLTIP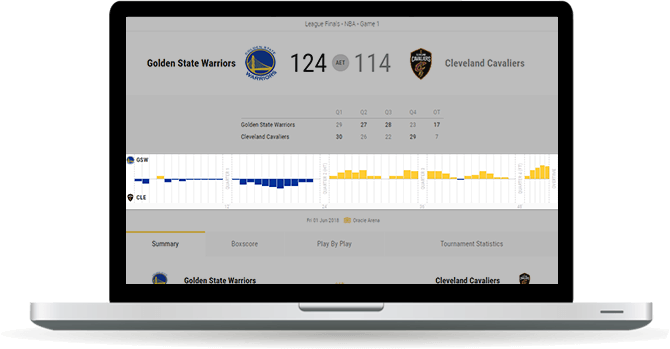 EXTENDED FEATURES
All our widgets are coming with more than 10 unique features each, fully configurable. It's up to you to turn it on and off as you wish.
MINUTE BY MINUTE LEADING
Which team is dominating the game minute by minute?
Lead Tracker widget shows the lead at each minute updated in live match by colorizing differently for home or away team.


SCORE IN TOOLTIP
Game scores in minutes for the fans who love the in-depht statistics.
In addition to the lead, users can see the score info in any minute of the period via moving mouse over the minutes.
EXPLORE OUR PLANS
Get the sports data solution you need with our widgets just by selecting your data plan. No extra fees for additional sports or widgets, all included.
SEE PRICING