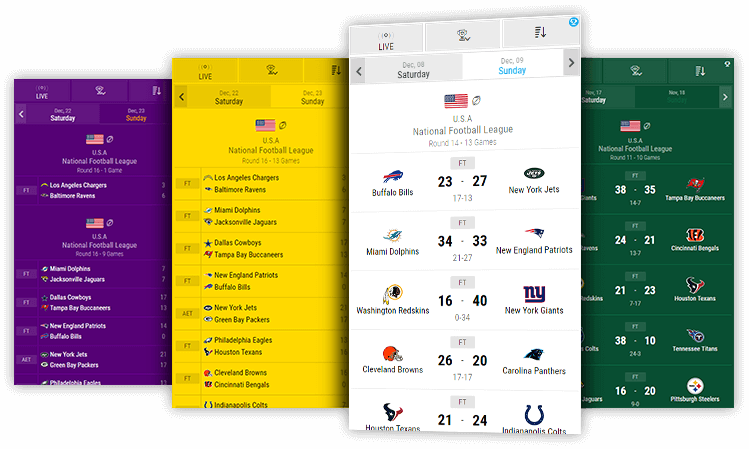 DISCOVER THE FOOTBALL LIVESCORE WIDGETS
Broadage Football Livescore widgets is designed, developed and specialised for showing live football data in the best way possible.
TEAM LOGOS

SORTING & GROUPING OPTIONS

CUSTOM MATCH DATE FORMAT

DETAILED SCORES

HIGHLIGHT WINNING TEAM

MATCH SUMMARY IN EXPAND MODE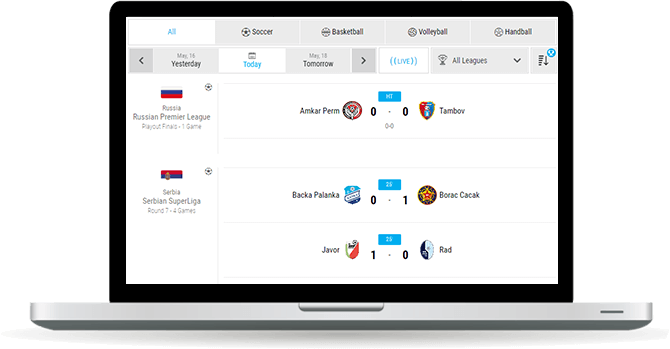 EXTENDED FEATURES
All our widgets are coming with more than 10 unique features each, fully configurable. It's up to you to turn it on and off as you wish.
MATCH LINE VIEW OPTIONS
Different types of views
Livescore widget comes with 7 different match line view options you may use, in any combination you desire. All views are designed and developed according to meet every cultural usage habits on the planet. You may pick your favorite view and apply it, or choose different views for each sports as well. Different layout options for tournament headers, let you create distinctive sports content in your digital platform.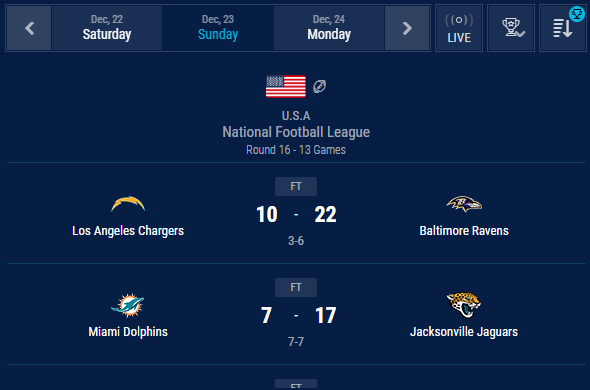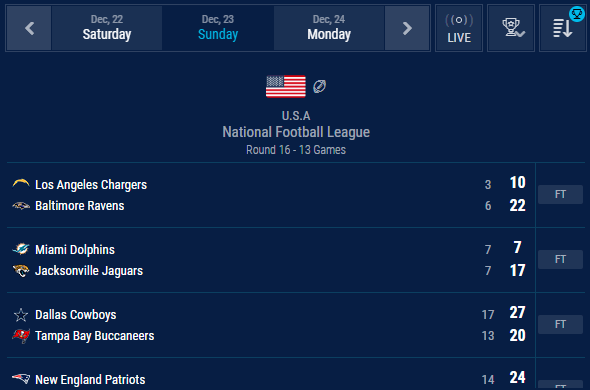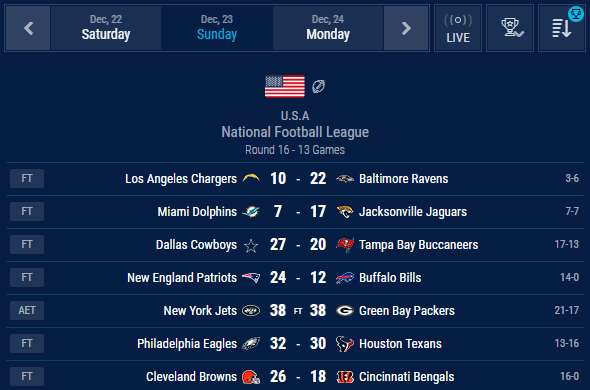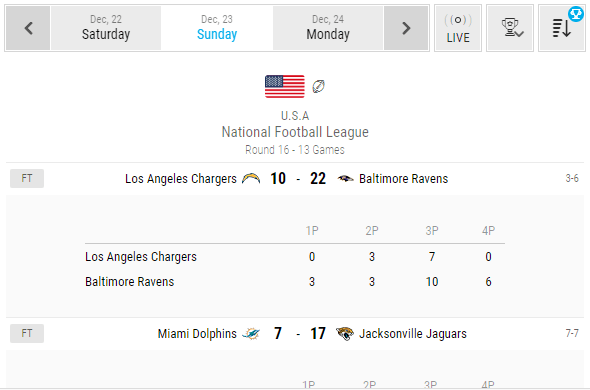 DEFINE YOUR OWN LIVESCORE COVERAGE, PRIORITIZE TOURNAMENTS
Multiple coverages for local and global
Broadage Coverage Builder lets you create your custom coverage by picking your favorite tournaments and ordering them by the prioritization you define. Create a coverage specifically for NFL or NCAA separately, and use them in the relevant pages in your domain. You can also create a coverage that includes them both and prioritize NCAA over NFL, depending on the time of the year.
UNLIMITED COLORS & SKINS
Powerful Theme Builder
The Livescore widget comes with various built-in themes ready to use, but you are not limited to them. With Theme Builder, you can create custom light or dark themes with your desired colors in 3 easy steps, and instantly view the effects of the changes you make. You can also save the color palette you created, for later purposes.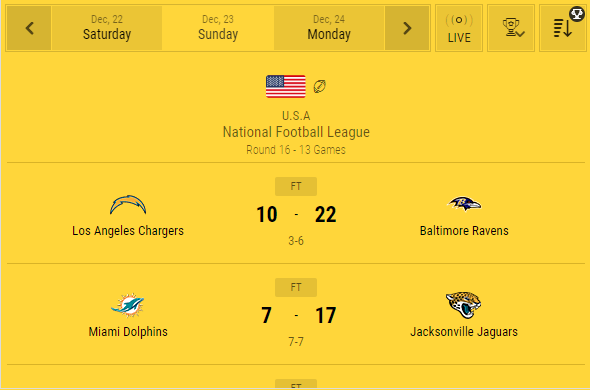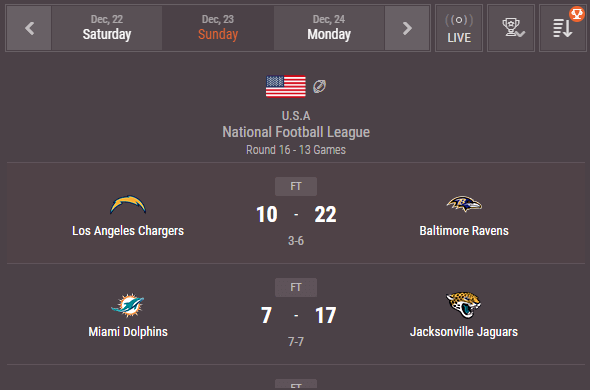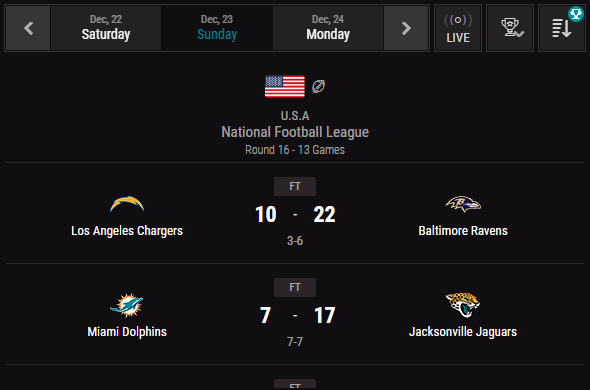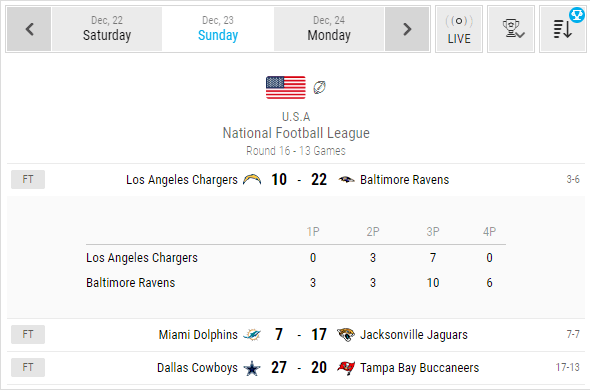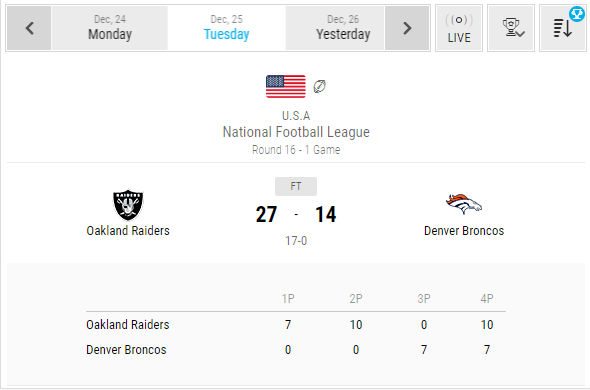 ADDITIONAL MATCH INFO AND SCORES
Different look for each outcome
Not only the kick off time and full time scores, sports data including period scores, half time scores and overtime scores are also provided in the Football Livescore widget, giving the users everything they need to know at a glance.
OTHER FOOTBALL WIDGETS
See all of our Football Widgets in detail
EXPLORE OUR PLANS
Get the sports data solution you need with our widgets just by selecting your data plan. No extra fees for additional sports or widgets, all included.
SEE PRICING