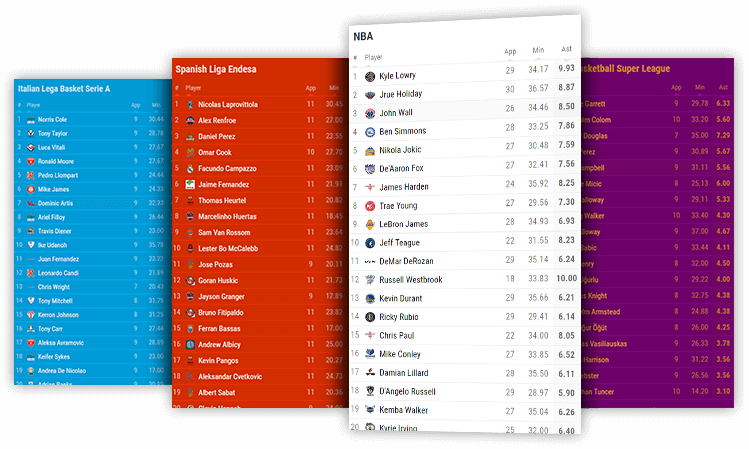 DISCOVER THE BASKETBALL ASSISTS LEADERBOARD WIDGETS
Basketball Leaderboards: Assists widget provides the top assist markers of the competition. In the Broadage Leaderboards Assists widgets, the standard table is supported by some additional statistics for the players. Such as appearances, turnovers, assist/turnover ratio…etc.
TOURNAMENT INFO

TEAM LOGOS

LEGENDS FOR WIDGET

SORTING

LIMITABLE ROWS

CUSTOM CONTAINER MAX HEIGHT

CUSTOM DATA LIST MAX SIZE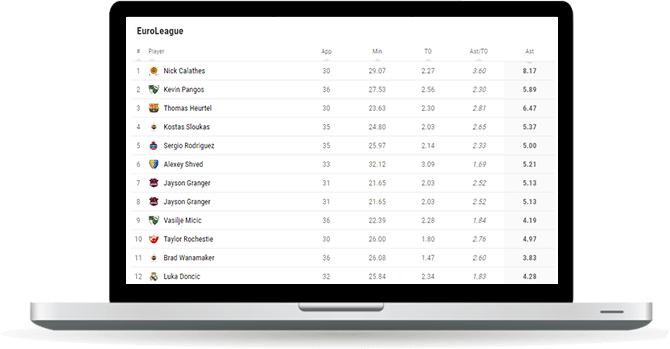 EXTENDED FEATURES
All our widgets are coming with more than 10 unique features each, fully configurable. It's up to you to turn it on and off as you wish.
DATA DESCRIPTIONS
As the number of data types used in the leaderboards increase, more abbrevations are used.
The description for each abbrevation used is presented at the footer of the widget to create a more user friendly and clear environment. If you are serving to a more advanced user based audience, feel free to turn off the descriptions for a simplified look.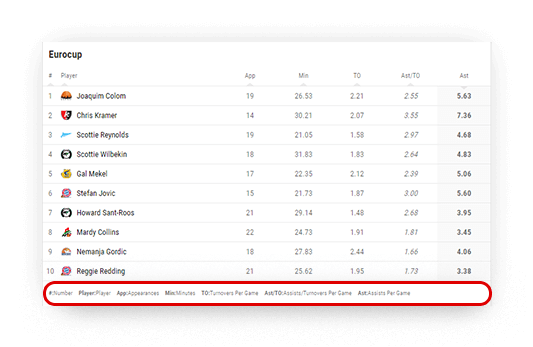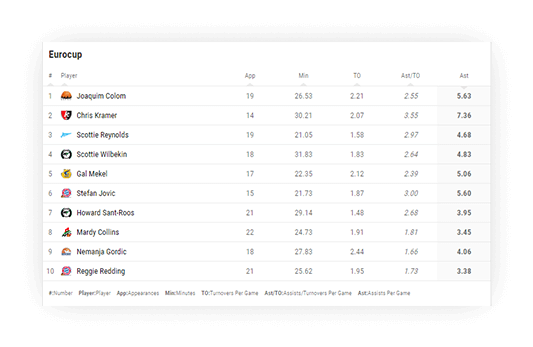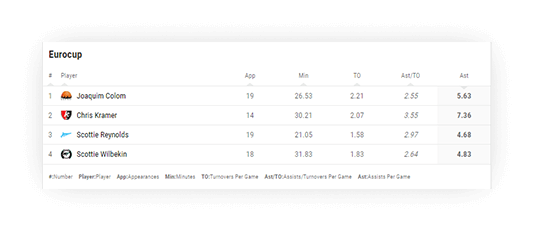 SMALL & LARGE MODES
Configure the number of data rows and create different versions of the same widget for different use cases.
It can be a tight race between 5 players who are far ahead of others or between more than 10 players for a certain time of the season. It's possible for you to show specialised content for both cases, thanks to a wide amount of options in defining data rows.
SORTINGS
Redefine the leaderboard based on any stat to give a different perspective.
The leaderboard may have been defined with a specific stat, but your users can sort the table by other stats to find out the answer to a wide range of "what if" questions. In the end it's up to you, turning the sorting options on and off as well.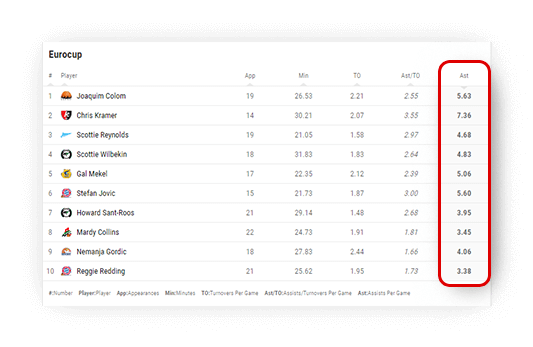 EXPLORE OUR PLANS
Get the sports data solution you need with our widgets just by selecting your data plan. No extra fees for additional sports or widgets, all included.
SEE PRICING